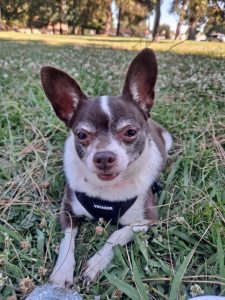 Pet's Name: Kiwi
Breed: Mix Terrier Color: White and Brown
Age: 3-5 years Gender: Female
Last Seen: Porter Way
Harrisburg Place
Stockton, CA 95207

Kiwi is I believe a Rat Terrier mix or a Chihuahua Terrier mix, She is White around her Neck, legs, some on her face and at the end of her tail and Brown around her body.
She is a bit skittish and do not like other dogs but she will warm up to kids and Men.
She also goes by fat girl.
She does not have a collar on and is not chipped.