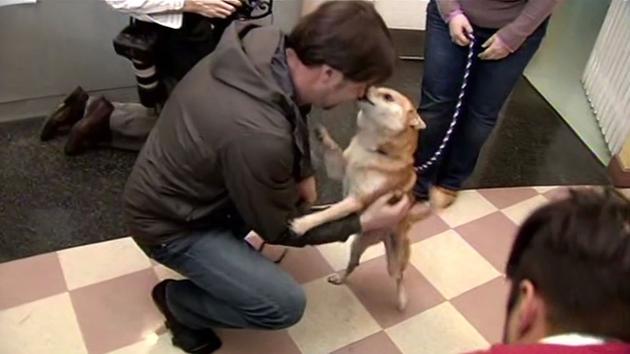 Three years ago, a dog went missing from the backyard of a family in Tracy. They nearly gave up hope that their beloved pet would ever be found. But on Monday, they received a call from a shelter in Oakland.
Hana's coat tells the story she cannot share — half her fur is gone and her legs are in constant motion to fight the itching. She was picked up as a stray Jan. 9.
Oakland Animal Services recognized her as a valuable purebred Shiba Inu. They found her microchip and from there it was just a few phone calls before her family knew Hana was alive.
"It was a huge wow," said volunteer coordinator Vickie Bell. "I mean, how often do you get to have that moment of the system works. Like, it does actually work!"
On Monday, Ian McNesby drove from Tracy to identify the dog he thought he lost three years ago. He was too nervous to tell his family.

"I didn't know by looking at her if she was injured," he said. "You know, what she'd been through over the last three years. It was very hard to leave her there."
Finally, the joyful and lasting reunion took place on Wednesday.
"This is, it's just amazing," said Yuko McNesby. "Just shocked, you know, just shocked to see her again."
"I'm just feeling happy right now," said the McNesby's son.
When Hana disappeared, daughter Mia was only 5.
"I feel great to see her again," she said.
The family believes she was stolen in 2011. They filed a police report and posted fliers around the neighborhood.
After months turned into years, they never thought they'd see Hana again.
Oakland Animal Services says Hana's story is just one more reason every pet should be microchipped.
The McNesby's plan to take Hana to the vet and then take her home.
"I want to take good care of her and I feel bad for her being out in the wild," Mia said.
"We're just going to spoil her," Yuko said. "We're just going to keep her home and we probably going to sleep with her together, just make her queen."
A queen finally reunited with her family and her throne.
Source: http://abc7.com/pets/california-family-reunites-with-lost-dog-after-3-years/477497/