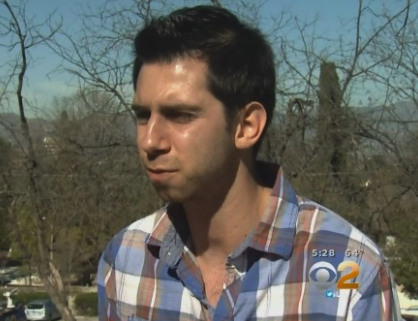 A local man who lost his dog nearly four years ago has been reunited with the beagle-Chihuahua mix.
The dog named Mikey was originally rescued by Nick Garmyn from a shelter in Northridge 3 ½ years ago.
But one day, when the door was left open by one of Garmyn's roommates, Mikey went missing.
"I searched high and low. Put lost posters everywhere. Posted on every website I could think of and basically with no luck," he said.

After looking for Mikey for weeks, Garmyn realized his pal was likely gone for good.
But years later and after several moves, including one to Hawaii, Garmyn got word that his dog had been found.
Mikey, who had been micro-chipped, had somehow wondered into the Stevensons' North Hills garage last week.
"I was in the garage here just working on some stuff and he kept coming in and laying down," Michael Stevenson, a North Hills resident, said of Mikey.
Garmyn said at first he was a little skeptical.
"But nevertheless, I ran over there and I saw him and it was him and I was basically in shock," he said. "The dog at first did not recognize me. He kind of did a human equivalent to a double-take."
"I wish I put a GoPro on his head and saw his past four years, which is equivalent to 28 human years," Garmyn added.