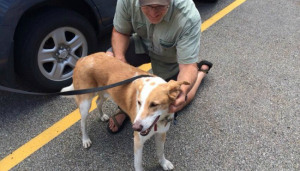 A dog that went missing after a tornado hit the boarding facility where he was staying has been found safe.Puckett reunion 2 070914
Puckett, a 65-pound Labrador/Border Collie mix was located Wednesday morning and reunited with his family at the Kent County Animal Control facility.
Puckett's owners told 24 Hour News 8 they got a call that Puckett had been found just before 10:30 a.m. He was found by a Kent County employee and brought to the Kent County Animal Shelter, but the owners weren't given details on exactly where or when that happened.

Puckett had been missing since Sunday night. That's when the boarding facility where he was staying, The Well Mannered Dog Center, was seriously damaged by an EF-1 tornado.
One of the center's employees was able to move 60 to 70 dogs from the center to a nearby building to wait for owners and animal control to pick up the dogs, but somehow, Puckett got away.
The dog didn't appear to have any injuries after being on the loose for more than three days.
"He was in good shape and moving around. He didn't seem to be limping," Barbara Shenton, one of Puckett's owners, said.
Puckett's owners said the first thing they did when they were reunited with their beloved pet was to get him microchipped.
"It was a very easy process and I think it's well worth the $20," Barbara Shenton told 24 Hour News 8 Wednesday. "And you were talking about it last night and we thought, 'Yep, that's the first thing we should probably do.' So thank you."
They also thanked everyone who took time to search for Puckett — even though those searchers may have been dealing with storm damage to their property.
"We got a lot of support from the community. Everybody was really willing to help out. Very reassuring to see how many people care, how many people love dogs," Puckett's owner Norm Christiansen said.
Source: http://woodtv.com/2014/07/09/missing-dog-found-safe-after-tornado/